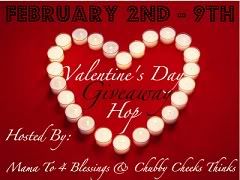 Mama to 4 Blessings
and
Chubby Cheeks Thinks
are teaming up to bring you the Valentine's Day Giveaway Hop!
With over 40 bloggers participating there will be a lot of great Valentine's giveaways! This is the perfect way to get something nice for yourself, your kids, or that someone special in your life. Valentine's Day is another great holiday of giving so we are all going to have a giveaway of at least $25 in prizes per winner and that is just the minimum. Some blogs will have more!
I purchased a $25 dollar gift card to Bath & Body Works that I'm looking forward to giving to one of my readers. Just follow the instructions on the Rafflecopter entry form below.
There are many great prizes to win during this Valentine's Day Hop. Good luck everyone!